Print Page
CTI Recognized as Local Innovator
May 10, 2018
[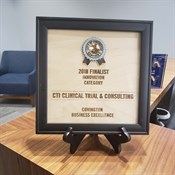 Covington, KY - May 10, 2018]CTI Clinical Trial and Consulting Services (CTI), a multi-national, privately held, full-service contract research organization was commended as a local innovator by the City of Covington, KY at the the 2018 Covington Business Excellence Recognition Awards. The awards were held Wednesday, May 9, 2018. CTI was recognized as a finalist in the Innovation Award category.
"We're honored to be recognized by the City of Covington as one of the leaders in innovation in the region," remarks Timothy J. Schroeder, Founder and CEO. "This award is testament to our employees who devote their work to developing innovative solutions to the challenges inherent to clinical research, and to impacting the lives of critically and chronically ill patients around the world."
CTI moved their global corporate headquarters to Northern Kentucky in 2017, and has quickly made a name for themselves in the region. This recognition as one of the area's innovators follows the receipt of a Business Impact Award (Vision category) given by the Northern Kentucky Chamber of Commerce in March of 2018. The award was bestowed upon CTI for inspiring and delivering new thinking to the marketplace and for showcasing Northern Kentucky as an area of thoughtful, innovative industry leaders.

CTI has been working for nearly two decades in the drug development industry across North America, Europe, South America, Pac-Asia, and Africa, specializing in clinical research programs involving critically ill patient populations, and has more than 30 offices worldwide to serve nearly 135 pharmaceutical, biotechnology, and medical device clients