Print Page
CTI Medical Director Honored with Lifetime Achievement Award from the American Society of Transplantation
June 5, 2018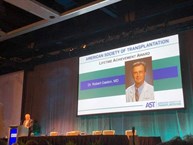 FOR IMMEDIATE RELEASE [Covington, KY ~ June 5, 2018] At a ceremony attended by transplantation experts from around the country, current and former colleagues, as well as his family members, Robert S. Gaston, MD, FAST, Medical Director at CTI Clinical Trial and Consulting, was presented with the Lifetime Achievement Award from the American Society of Transplantation (AST). The ceremony was held during the annual American Transplant Congress in Seattle, WA. 
The Lifetime Achievement Award is the highest honor that the AST bestows, recognizing significant contributions to the society and to transplantation.
"We are immensely privileged to have Bob as a part of our team and to have witnessed the presentation of his award," expressed Lynn Fallon, President of CTI Clinical Trial and Consulting. "Clearly, and rightly so, there are many people who think as highly of Bob as we do, and we are honored to be able to have him as a part of our team."
Dr. Gaston is a nephrologist who has dedicated more than 30 years to medicine. In addition to his broad experience in hypertension, immunology, public policy, and solid organ transplantation, much of Dr. Gaston's work has focused on drug development to address the challenge of improving long-term graft survival in kidney transplant recipients. He has been involved in clinical investigation since the 1990s, with research funded by industry, foundation, and government, and he has authored more than 300 published articles, chapters, and abstracts. Dr. Gaston's expertise is nationally recognized, and has resulted in ongoing consultation for the National Institutes of Health (NIH), US Food and Drug Administration (FDA), several academic institutions, and industry (biotech and large pharma).   As a faculty member at the University of Alabama at Birmingham (UAB) from 1990-2017, Dr. Gaston served as Interim Chief of the Division of Nephrology in 2013, and Associate Editor of the Journal of the American Society of Nephrology from 2013-17.  He was also President of the American Society of Transplantation (AST) in 2011-12.

CTI is a leader in this field with contributions to nearly all transplant-related therapies on the market today and has been a part of AST for two decades."
About CTI Clinical Trial and Consulting Services
CTI Clinical Trial and Consulting Services is a global, privately held, full-service contract research organization (CRO), delivering a complete spectrum of clinical trial and consulting services throughout the lifecycle of development, from concept to commercialization. CTI's focused therapeutic approach provides pharmaceutical, biotechnology, and medical device firms with clinical and disease area expertise in rare diseases, regenerative medicine/gene therapy, immunology, transplantation, nephrology, hematology/oncology, neurology, infectious diseases, hepatology, cardiopulmonary, and pediatric populations. CTI also offers a fully integrated multi-specialty clinical research site that conducts phase I-IV trials. CTI has a passion for helping life-changing therapies succeed in chronically and critically ill patient populations. With clinical trial experience across 6 continents, CTI partners with research sites, patients, and sponsors to fulfill unmet medical needs. CTI is headquartered in the Greater Cincinnati, OH area, with operations across North America, Europe, Latin America, and Asia-Pacific. For more information visit www.ctifacts.com