Print Page
CTI to Sponsor Alliance for Regenerative Medicine's 3rd Annual Regen Med Investor Day
March 19, 2015
CTI Clinical Trial and Consulting Services to Sponsor Alliance for Regenerative Medicine's 3rd Annual Regen Med Investor Day
FOR IMMEDIATE RELEASE [Cincinnati, OH ~ March 19, 2015]
CTI Clinical Trial and Consulting Services (CTI) to sponsor Alliance for Regenerative Medicine's (ARM) 3rd Annual Regen Med Investor Day, taking place March 25, 2015 in New York City. CTI is a supporting member of ARM, and is the only CRO sponsoring and attending the event.
The Regen Med Investor Day event will consist of talks by investment professionals with experience in the life sciences, insight from key opinion leaders in the industry, and interaction with expert analysts. In addition, presentations will be made by more than 30 leading global companies in regenerative medicine.
"We are thrilled to be given the opportunity to sponsor such an exciting meeting that brings together investors and industry leaders in regenerative medicine," according to Timothy J. Schroeder, Chief Executive Officer. "CTI has extensive experience in this field, with more than 25 active projects in regenerative medicine and gene therapy."
CTI is currently working with more than 100 pharmaceutical, biotechnology, and medical device companies across the world, and has been involved in more than 70 drug and device approvals over its sixteen year history.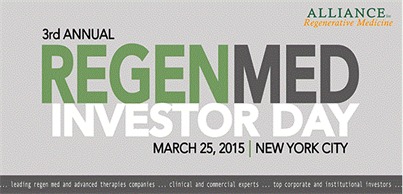 About The Alliance for Regenerative Medicine
The Alliance for Regenerative Medicine (ARM) is an international multi-stakeholder advocacy organization that promotes legislative, regulatory and reimbursement initiatives necessary to facilitate access to life-giving advances in regenerative medicine worldwide. ARM also works to increase public understanding of the field and its potential to transform human healthcare, providing business development and investor outreach services to support the growth of its member companies and research organizations. Prior to the formation of ARM in 2009, there was no advocacy organization operating in Washington, D.C. to specifically represent the interests of the companies, research institutions, investors and patient groups that comprise the entire regenerative medicine community. Today, ARM has more than 200 members and is the leading global advocacy organization in this field. To learn more about ARM or to become a member, visit http://www.alliancerm.org.
About CTI Clinical Trial and Consulting Services
CTI Clinical Trial and Consulting Services is an innovative, international drug and device development organization that delivers a full spectrum of clinical trial and consulting services from bench to commercialization with a focus on immunology and a passion for helping life-changing therapies succeed in chronically and critically ill patient populations. CTI's focused therapeutic approach provides pharmaceutical, biotechnology and startup firms with clinical and disease area expertise from a unique mix of academic, medical and industry specialists; rich intellectual capital in transplantation, immunology, infectious diseases, hematology,  cardiology, nephrology, hepatology, regenerative medicine and rare diseases; flexible study designs that accelerate development programs and deliver high approval ratings that are among the best in the industry; and exceptional global project management and gold standard safety and data management systems that strengthen their program's success potential. Established in 1999 and headquartered in Cincinnati, OH; CTI has offices in North America, Europe, South America, and Pac-Asia.